Heather

Add Heather as a friend

Heather will be notified and will have to accept this friendship request, to view updates from Heather and their ratings you must follow them.

Remove Heather as a friend



About me
I enjoy a list of the eclectic range of interests ranging from cycling to sewing warm jackets for my Millie.
Lists
Recent reviews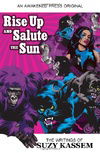 Posted : 4 years, 2 months ago on 17 May 2014 10:31 (A review of
Rise Up and Salute the Sun: The Writings of Suzy Kassem
)
One of the most startling and life-transforming books I've ever read. I'm a jolly fan! There is no book out that can compete with the sheer brilliance and intensity of this one. Suzy Kassem is prophetic. She absolutely blows my mind and forces me to re-analyze my role in the world and the universe.

0 comments,
Reply to this entry
Books
Comments